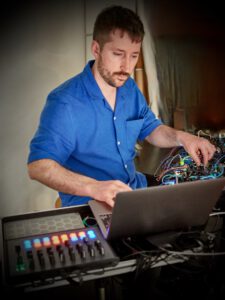 Pablo Garreton is a composer that has a broad scope of interests that goes from chamber music with live electronics works multimedia and performance as well as sound art. In all these different formats, he always works with his personal attention to detail, highlighting sound in relation to our society and the environment. Garretón studied composition in Santiago de Chile and completed a master's degree in electronic music with Michael Beil and the degree of Konzert Examen at the Hochschule für Musik und Tanz in Cologne.
His interest in critical perspectives on new technologies has produced pieces such as his transmedia video installation "Re-cognize me 2.0", which uses a facial recognition system combined with dance and live video. 

He has participated in interdisciplinary explorations as a composer, sound director and performer with live electronics in solo pieces and also in collaboration with other artist:ing.
His works have been performed in Chile, Argentina, Peru, Finland, France and Germany, where his concerts with Musikfabrik, Ensemble Garage and Electronic ID are particularly noteworthy.

 Pablo Garretón received scholarships from the Goethe-Institut and the Munich Festival for New Music Theatre to participate in two residencies in Buenos Aires and Lima. In 2017, he participated in a three-month multidisciplinary artistic residency in Berlin as part of the project Drittes Territorium, working with the sounds of abandoned places in the city.
In 2017, Garretón was awarded a two-year grant from the Chilean Ministry of Culture; he won a prize at the Eight Bridges Festival International Composition Competition in 2018. In 2019, he participated in a residency programme in Paris at the Cité International des Arts with a six-month scholarship from the North Rhine-Westphalia Ministry of Culture and Science. During this time he also attended workshops in electronic music at IRCAM.

 Since 2021, Pablo Garretón has been a board member of the Cologne Society for New Music (kgnm) and a composer at the International Ensemble Modern Academy in Frankfurt 2021-22.
www.pablogarreton.com