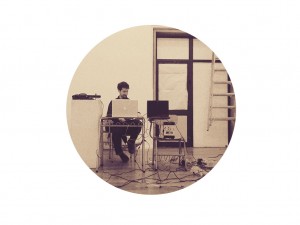 Pablo Garretón is a chilean composer, Licentiate in Music Composition and Master of Arts from the Catholic University of Chile, where he studied with Cristian Morales. Besides piano studies he specialized in computer audio processing tools and interaction between sound and movement in the same university. Participates as composer and performer in various theater companies. Since 2010 Garreton is also part of the Taller Ciclo, with which he has developed various musical works related to electroacoustic music and improvisation. Since 2012 Pablo has been focusing his work on multimedia compositions as well as with dance, performance and interactive art. During 2015-16 he worked as composer and technical director with the LNDC collectiv in a video installation/performance. He has received scholarships from the Goethe Institute and the Festival for New Music Theater Munich to work in two art residencies in Buenos Aires and Lima. Last year he participated on a three months multidisciplinary art residency in Berlin with the Drittes Territorium Project creating a site specific performance. Garreton was recently awarded with a two years scholarship of the chilean Ministry of Culture and actually lives in Cologne and studies Master of Electronic Music, with Michael Beil at the Hochschule für Musik und Tanz Köln.
Pablo Garretón es un compositor chileno, licenciado en música mención composición y master en artes de la Universidad Católica de Chile, donde estudia con los profesores Cristian Morales. Actualmente reside en Colonia y estudia un Master en música electrónica con Michael Beil en la Hochschule für Musik und Tanz Köln.  Además de realizar estudios de piano se especializa en herramientas informáticas de procesamiento de audio y transformación de movimiento en sonido en la misma universidad. Asiste a seminarios de composición con Gabriele Manca y Ricardo Cortés. Participa como compositor e intérprete en diversas compañias de teatro, dentro de las que destaca el Teatro del Silencio y el Colectivo Niños del Cid. Desde el 2010 forma parte también del Taller Ciclo, con el cual ha desarrollado diversas obras musicales relacionadas con la música electroacústica. Desde 2012 Pablo ha desarrollado una serie de composiciones multimediales así como diversos trabajos con danza, performance y colaboraciones con artistas visuales.
Pablo Garretón ist ein chilenischer Komponist. Er hat sein Grundstudium in Komposition sowie einen Master of Arts an der Universidad Católica in Santiago de Chile absolviert, wo er bei Cristian Morales studierte. Seit 2010 ist Garretón Teil der Gruppe Taller Ciclo, mit der er verschiedene musikalische Arbeiten zu elektroakustischer Musik und Improvisation entwickelt hat. Seit 2012 konzentriert sich Garretón auf multimediale Kompositionen sowie auf Tanz, Performance und interaktive Kunst. Von 2015 bis 2016 arbeitete er als Komponist und technischer Direktor mit dem LNDC-Kollektiv an einer Videoinstallation / Performance. Vom Goethe-Institut und dem Münchner Festival für neues Musiktheater wurde er zu Kunstresidenzen in Buenos Aires und Lima eingeladen. Im vergangenen Jahr hat er im Rahmen einer dreimonatigen multidisziplinären Künstlerresidenz in Berlin am Projekt Drittes Territorium teilgenommen und eine ortsspezifische Performance kreiert. Garreton wurde kürzlich mit einem zweijährigen Stipendium des chilenischen Kulturministeriums ausgezeichnet. Aktuell lebt er in Köln und studiert an der Kölner Hochschule für Musik und Tanz bei Michael Beil einen Master in elektronischer Musik.